What Do You Need for a Tradeshow?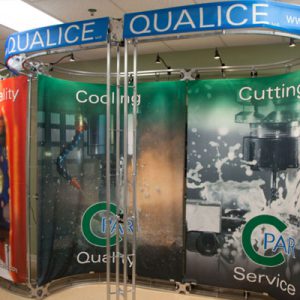 We've all been there. Standing at a tradeshow, staring at a sea of endless booths, one right after the other. So what do you do when you're behind the booth to make sure you stand out?
Branding is important. All of your booth collateral and decorations need to work together, all of them screaming your brand's colors and messaging.
Your signage and display are the first things people see. Plus, many tradeshow booths are relatively the same size, so these items can be reusable. Don't skimp on this. Take the time to think through what's right for your brand. Is it printed signage that can be hung from piping or stand on a table? Could a banner stand that can be used day-to-day in your office when you're not at a show work best? Is it a digital or LED set up?
Another consideration is how you're going to present your company at the tradeshow. If you'll have AV access, you have the option of a running presentation. This could also be saved to CDs or flash drives as a branded handout. If you're a little more traditional, professionally designed flyers and brochures are still handy stand-bys to leave behind your messaging with your booth's visitors. Again, think about what's best for your overall brand.
About the swag…It's an expense you need to take seriously. Do folks really need another pen? Yeah, they're inexpensive to put your logo and message on. But they're also easily tossed. Think about your industry and what people actually need or use. Would a smartphone accessory or flash drive keep your name in front of your potential client longer, well past the event itself? It may be worth the extra cost.
Be prepared for your next tradeshow, and have our designers at your back. Check out our graphic design and tradeshow work, then contact Asterisk Creative!