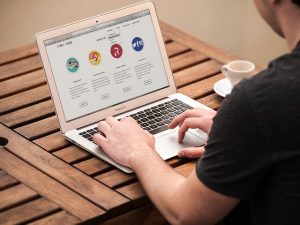 As much as business owners want their website designs to be one and done (meaning you get your site designed once, then you're good to go forever), that's really not the case. The way folks consume data online changes almost daily. An older website design will look stale and will not convert visitors into leads or, better yet, customers.
How do you combat that? Stay on top of web design trends and make sure your website's look and feel match what experts say converts visitors into clients. For 2018, here are a few of the trends we have our eyes on:
Vibrant colors.




Muted colors that were popular in the past are just that – popular in the past. Bright, engaging colors are the new way to go.

Bespoke visuals.




Stock photography is also on its way out for 2018. Images created specifically for your brand – whether through photography or through design software – are in.

Responsive design.




This one isn't just a trend to keep site visitors engaged. This one can have a huge effect on your SEO and whether or not the search engines show your site in the search results! Having a website that renders well on a variety of devices (like phones, tablets, laptops and desktop computers) is essential now, particularly since mobile searches have overtaken desktop searches in nearly every industry

Innovative Typography.




The use of different fonts to create an eye-catching site is catching on! Custom fonts are being designed every day, and when paired with the vibrant color trend, your copy can draw visitors in like no other.
Don't let your website's visitors walk away from you because your website doesn't speak to them. Get ready to get your website redesign underway. Contact Asterisk Creative today.