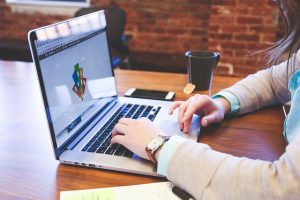 As a tool in your marketing arsenal, your website should also bring you leads and customers. But a lot of websites fail in this respect. Here are a few tips on web design for lead generation from the team at Asterisk Creative.
Focus on your customer, not yourself.
As a business owner, it's often second nature to want to tout how great your products/services are, how knowledgeable your team is, etc. For the most part, though, this doesn't help people. They want to know how you can help them, how your products and services will make their lives easier. Instead of writing your on-page copy to scream the greatness of your company, talk instead about the problems you solve for those that buy from you.
Give visitors a reason to trust you.
Telling visitors to your website how you can help is one thing. Showing them how you've helped others or have the accreditation to help them speaks volumes. Have you won an award for your work? Put a picture of it on your site. Do you belong to professional organizations? Their logos need to be on your site, too. Have client testimonials about how great your work is and what you did for them? Yep – you're missing out if those aren't on your site.
Double-check the mobile version of your site.
Everyone's on mobile now. If your site doesn't render well on a mobile device, you've just removed yourself from consideration as a vendor for their purchase.
Make sure your site's user experience leads them to contact you/buy from you.
Let's face it. The more technology makes things easy for us, the lazier people become. Once a visitor is on your site, they don't want to have to look for what they originally came to the site for. As you're laying out your site, ask yourself these questions:
If someone lands on your home page, how many clicks does it take to complete a purchase or find pertinent information? (The more clicks, the more likely you are to lose them.)
Is your contact information easily findable on every page, giving an easy way to reach out instead of just leaving your site, and business, altogether?
How long does it take for the site to load? (Even a 0.1 second increase in load time can affect whether people stay.)
How content-heavy is your site? How distracting are your graphics? (You need a balance of content and graphics.)
Is your website falling short? Bring your website to the top of its game. Get on board with the team at Asterisk Creative to make sure your website is doing all it can for your business.