Is Your Site Secure? Google to Require SSL Certificates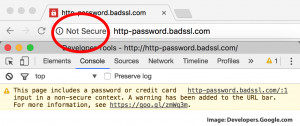 With all of the security breaches and data breaches in the news lately, it should come as no surprise that Google is making moves to make the internet a safer place. In one such move, Google is going to require SSL certificates for all sites soon.
First things first. What is an SSL certificate? SSL stands for secure sockets layer. The certificate being on the site creates an encrypted link between the server and the browser so that all data remains private. In effect, this technology protects site visitors from cybercriminals.
After Google implements this SSL requirement, sites without an SSL certificate will be flagged as "not secure", alerting searchers that visiting that site may put their data at risk. Obviously, this will be a deterrent for potential site visitors, and your website's traffic will invariably suffer. In addition, sites without SSL certificates will be "dinged" in the organic search results, no matter what other SEO (search engine optimization) work has been done on the site.
This move had been slated to take effect in July, but Google has pushed the deadline back to September for now. This may change again – to be pushed back to later than September or moved up to sooner. Get your site set now. Contact Asterisk Creative for your next steps today!