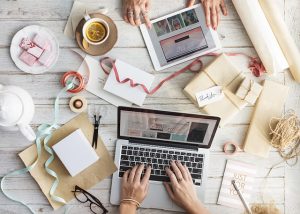 The holidays are rapidly approaching. Thanksgiving. Black Friday. Small Business Saturday. Cyber Monday. Hanukkah. Christmas. Kwanzaa. Diwali. The new year. In fact, people around the world celebrate over 20 holidays between Thanksgiving and the New Year.
Business owners planned their holiday specials a while back and a set a marketing strategy in a perfect world. But if you find yourself a little behind the eight ball, hope is certainly not lost. Here are a few things you can do:
First of all, studies show shoppers tend to plan their Black Friday, Small Business Saturday, and Cyber Monday plans during the week before Thanksgiving. If you're offering a special for any or all of those days, put it out now. Promote it heavily where you can between now and Thanksgiving. Social media outlets are amazing for this! Particularly with Facebook and Instagram ads, they can be set up and running quickly. They can also be highly targeted to work with a tight budget.
If you offer gift certificates, remind your fans and followers. Target Facebook ads to show to friends of your page's fans.
Video is becoming increasingly popular. Therefore, this is the perfect way to showcase your holiday sales items. If you don't have the resources to create a holiday-specific video, showcase items you'll have on hand all throughout the winter season or even year-round. There are even DIY video editing options that allow you to put together a video with photos and text.
As always, go where your audience is. Look at the data provided to you via your Google Analytics, Facebook Insights, Instagram Insights, Twitter Analytics, etc. What does it tell you about who your market is? Are there other outlets that target this same audience that you can still get into with a holiday ad?
Don't let the holidays stall your marketing efforts. Contact Asterisk Creative, the southeast's premier marketing agency, today to get your holiday marketing up and running!