Using Facebook Messenger for Business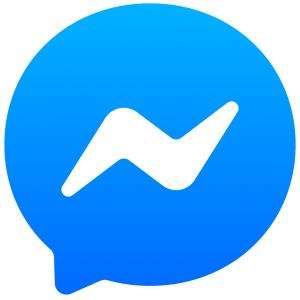 In our last post, we touched on how adding a live chat feature to your website could add to your company's trustworthiness. Honestly, we know that that's not possible for many business owners for a variety of reasons. But if you have a business Facebook page, you have a chat feature of sorts at your disposal.
While it's not housed on your website, Facebook Messenger offers customers and potential customers the ability to reach you directly and chat with you in real time. This is increasingly a feature folks look for. In fact, studies show that the Facebook Messenger app is used almost as much as native text apps on mobile phones.
Additionally, if you consistently respond quickly, a badge goes on your business page that indicates to users that you're responsive. This is another piece that plays into that trustworthiness factor. (Quickly, in this case, is defined as roughly within an hour or so.)
What's more, Facebook also offers a chat bot feature for Messenger. Chat bots send an automated response that businesses can use to communicate when there isn't a dedicated person to do so. There are two types of chat bots for Facebook right now. One is a subscription bot that offers users information (like weather, traffic, etc) when they subscribe to get those messages. The other offers customized messaging such as receipts, shipping notifications, and live automated messages that pull responses from a repository based on terms in the message from the user.
Chat bots can help get users engaged with your company. And we all know that's a great thing! However, there are some downsides.
They're not free. You either have to build your own or purchase/subscribe to one through a service that offers them.
They do not offer personalized messages to your subscribers/those that message you. It's pretty much canned content all around.
Messages are sorted into one of several inboxes when they come in. If they go to your spam inbox, there's a good chance both you and your chat bot will miss responding.
As you can see, there are pros and cons with Facebook Messenger bots, as there are with most things. If you'd like to "chat" about whether a bot could help your business or how you could be using Facebook Messenger for business in general, give Asterisk Creative a call today!